Post by Slash on Dec 18, 2013 18:10:13 GMT -5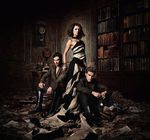 Also some re-watches of Arrow, possibly. If I have time. I'm really loving the second season. It's a lot more serious and focused. Better writing and acting too. Plus, there's Felicity in those tight skirts and glasses. Haha! Thank you Arrow, keep it coming. Arrow is really coming into its own and I'm loving it.
Other Shows I'm loving so far, or have to catch up onScandal
-- I can't believe how good this show is. It has some of the best writing and acting on television. Kerry Washington is just a Godsend. She's tremendous on it. Plus, the tension and cliffhangers -- jaw dropping. This is what the vampire diaries used to be in its heyday. I can honestly say I'm addicted to this show. It's just that good. I remember I was sick for an entire week, and I watched the second season all the way through. It was so good I couldn't stop watching. Definitely helped pass the time, that's for sure. I can't wait till it comes back.
Marvel: Agents of S.H.I.E.L.D.
-- Joss Whedon create two of my favorite shows: Buffy and Angel. So when I heard he was doing another show I was pretty happy. I've watched a few episodes so far, and honestly, I don't like it as much as I thought I would. I mean..... it's a nice show, but it's a little too simplistic for me, and not nearly as serious as it should be. Yeah, yeah, I know, it's Joss Whendon we're talking about, but I thought this show would've been the exception, and maybe bring a little more attention to other aspects besides comedy (which is fine in certain shows and in the right doses). Also, I don't love most of the characters on it, and the storyline doesn't interest me as much. I don't know, maybe I'll change my mind eventually. I'll see how things go.
Books


I love history, and one book I'm loving so far, but really need to catch up on is The Illustrated Encyclopedia of Warfare by DK Publishing. I bought it a while ago but can't seem to find the time to read it. It's a tremendous account of wars from ancient times to the present day, and it has a ton of pictures, illustrations and artwork basically depicting every battle of any importance. It's a really good book and I'm sure any guy, or girl, on here that likes history will enjoy it.
Music
One album I recently bought and am listening too a lot is Icon For Hire's newest release. They're like a punk-pop-rock sort of group similar to Paramore. In fact, it's hard to distinguish their music sometimes (especially IFH's first album). I'm really loving their second album. It's a little more distinct from their first one, but definitely just as good. They talk about a lot of interesting themes that are relatable and each song has a quality of its own that makes it really different from the rest and enjoyable to listen to. I've yet to skip a song on this album. It's that good. If anyone likes paramore or groups similar to them, you will like this band and this album.
Gonna tackle this a bit out of order/in conjunction:
I like SHIELD but I get where people are coming from with it if they enjoy Arrow, which came before. Arrow is just fan candy tossed out there week in and week out. The amount of stuff they've thrown out there for a season and a half already is just so good and they're opening it more for the super powered stuff with Flash. I like SHIELD's characters, all of them at that, but there does seem to be some magic missing that's present there with Arrow that many people are enjoying/connecting with. I get Marvel trying to do the SHIELD thing and showing how ordinary people handle this stuff but I really do think they should have just gone with a street-level Hero like DC did with Arrow, which Marvel is now doing with Netflix (Jessica Jones, Luke Cage, Daredevil and Iron Fist for starters). Marvel should have done this from the outset and just got waist deep like DC is doing with B-C-D list characters and expanding the universe through TV. I think if the aforementioned 4 shows have the right talent and do take cues from Arrow in approach, those will be what Marvel fans will want over SHIELD. And I think SHIELD is more of Joss' brother's handling if I recall. Joss does help oversee the MCU though now.
I find myself on some days watching the Military Channel for hours on end but my main complaint with the channel is it's heavily WWII stuff (in fact, majority of the content is WWII) with a few Iraq/Afghan War + WWI sprinkles here and there. I really do wish the channel covered a lot more pre-gunpowder era stuff (Japan, China, Greece & Rome, Egypy, etc.).
Not sure if I've ever listened to Paramore. Trying to think if I listen to anyone 'punk-pop-rock'-ish so I'm kind of blind trying to think of what to expect. Will hit up Y